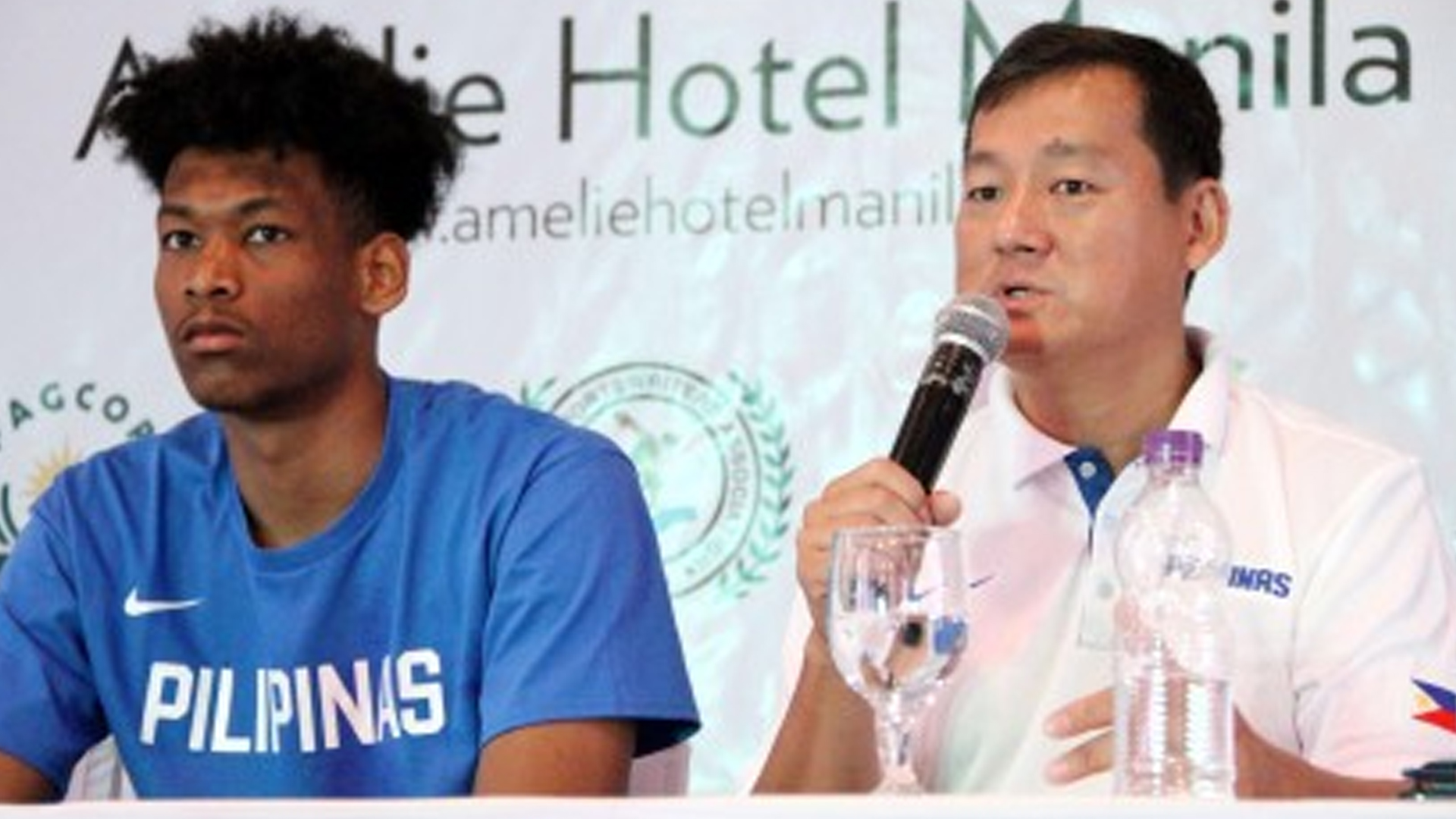 While touted as the tallest Philippine Youth squad ever assembled, people behind the Gilas Pilipinas U19 team was quick to temper expectations about its coming campaign in the FIBA U19 World Cup in Heraklion, Greece.
Team manager Andrew Teh did stress height will be among the team's major edge heading to the June 29 to July 7 meet as it parades a slew of tall players led by 7-foot-2 Kai Sotto, a pair of 6-foot-10 in AJ Edu and Shaun Geoffrey Chiu, and 6-foot-8 Carl Tamayo.
But as Teh reasoned out, sometimes basketball is not all about height.
"Dito sa Pilipinas, height yung kulang sa atin lagi. (Here in the Philippines, we lack height) But this time, we really have some height. But again, it's not only height that can win you games. It's the team play," said Teh in the Philippine Sportswriters Association (PSA) Forum on Tuesday at the Amelie Hotel-Manila.
"So it's not just about the height, although with height you have a good advantage (against the other). We just have to use that as a tool for us to become a better team," he added.
Chemistry, according to Edu, is also one of the factors the young Philippine team is banking on, the main core of this group having played together as a unit during last year's FIBA U18 Asian Championship in Nonthaburi, Thailand.
The Filipinos, then handled by Josh Reyes, placed fourth in the Asian meet to qualify for the World Cup. Reyes has since been replaced by Sandy Arespacochaga.
"I'm really liking the chemistry. Obviously, I thought after a year we've improved, all of us," said Edu, who was with Teh in the forum presented by San Miguel Corporation, Braska Restaurant, Amelie Hotel, and the Philippine Amusement and Gaming Corporation.
"I feel like skills-wise, we've improved. And I feel like the chemistry is already there from last year, so we can only get better (from last year)," added the Cypriot-born Filipino, who just finished his freshman year at the University of Toledo in the US NCAA.
The Youth squad will see action in two tune-up games against University of the East and Far Eastern University before leaving for Doha, Qatar on Friday (June 21) where it will set up training camp and play two exhibition matches against pro Al Rayyan Club.
Rome-based point guard Dalph Panopio is going straight to Qatar to join the team as he failed to arrive in the country earlier due to conflict in his academic schedule.
"Training camp will be about chemistry, camaraderie, and to learn the plays of the coaches," Teh added.
Other than Edu, Sotto, Panopio, Tamayo, and Chiu, other members of the 14-man squad are Gerry Abadiano, Bismarck Lina, Rhayyan Amsali, Joshua Ramirez, Migs Oczon, Dave Ildefonso, Terrence Fortea, Xyrus Torres, and James Spencer.
The team leaves Qatar on June 27 for Greece.
Bracketed in Group C, the Filipinos open their campaign against the host team Qatar on June 29, followed by Argentina on the 30th, and then Russia on July 2. (PNA)